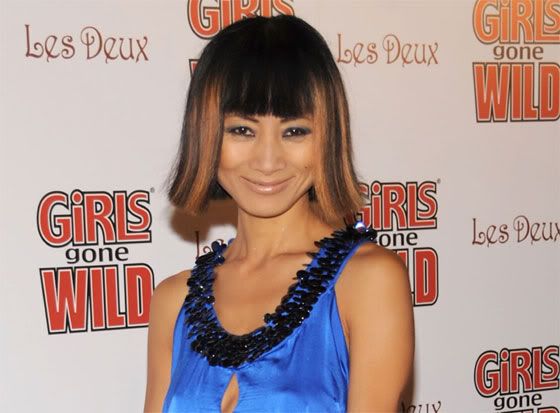 Yeah, this is from the same night we saw her at G-Star's Launch of L.A. Raw Nights
Bai Ling speaks some deep shit on airplanes,
We have 5000 airplane here more then any where in the world, they are so handsome........
I love them, it reminded me when I was in Tibet lost in the army uniform and in the military base, I am so attracted to any thing related to the army, the color and the energe, because they have only one goal in their brain, so firm and simple with a dead passion......
The quality of Total Commitment is truly attractive.
Personal life
In interviews with the New York Daily News and FHM, Bai has said she is bisexual.[4] Bai Ling is currently dating Philadelphia businessman and scientist Scott DeGirolamo. Bai lived in Singapore for the summer of 2006 and frequently patronised a now-defunct gay dance club called Happy (now renamed "Play"). She was apparently performing research for her upcoming film, an undisclosed film about the sex trade.
She is friends with Kimberly Stewart. She dated a play actor in the mid-1980s in China, and music composer Qu Xiao-Song in the mid 1990s[5], and Chris Isaak 1999-2001. She was briefly said to be romantically linked to Backstreet Boy Nick Carter. Rumors spread that Bai was engaged to him, but Carter denied the rumors, saying they were "just friends". More recently, Ling was linked with Dionne Warwick's son, Damon Elliott, though the two are not currently dating.
On Thursday, February 14, 2008 Bai Ling was arrested at Los Angeles International Airport for shoplifting two magazines and a package of batteries.[6]
It was an "emotionally crazy" day, Ling explained to E! News. She was coping with the "huge problem of breaking up [before] Valentine's Day ... Wrong boyfriend." [7]. She also wrote on her blog after the incident: "Life happens to you either you liked it or not, sometimes I feel you have to be so brave to stand in front of the World, and just hope that people will have a tender heart toward you." [8]
On March 5, 2008 she plead guilty to the charge of disturbing the peace. She was then fined $200 for the action at the airport.
Bai Ling was the winner of "Fug Madness 2008," a competition for worst-dressed celebrity hosted by the Go Fug Yourself blog, which received 1.1 million votes over 10 days.